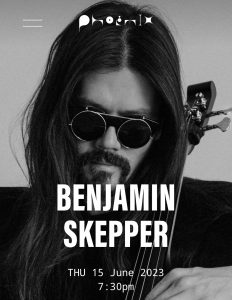 PHOENIX CENTRAL PARK
THU 15 JUNE 2023
730pm
MEDIA RELEASE
Multi-instrumentalist Benjamin Skepper operates at the confluence of art, science, technology, fashion, contemporary classical and the avant-garde. A respected multidisciplinary artist, his work explores perception, pushing boundaries to collapse artistic borders.
Following on from his sold-out performances of 'Praeludium y Fuga' at the Moscow State Conservatory (2019) and Melbourne Recital Centre (2023), Skepper will recontextualise this epic electro-acoustic audio-visual composition, with a new focus on his first instrument: the piano.
Praised for producing experimental modern classical compositions that blend soundscapes and field recordings with exceptional instrumental skills, Skepper will premiere new piano miniatures with electronics, and electric cello, as a site-specific performance work envisioned for the Phoenix Central Park listening space.
LINK TO PORTFOLIO ITEM: https://benjaminskepper.com/portfolio/phoenix-central-park-2023/