Artist Residency NO MANS LAND French Embassy Tokyo
"No Mans Land"
Curated by Hélène Kelmachter
2009-2010
The French Embassy Tokyo
ABOUT THE EXHIBITION AND ARTIST IN RESIDENCY
4 month artist in residency/exhibition
Skepper was invited to transform the military offices of the French Embassy headquarters, creating a multifunctional artist space. The baroque inspired salon housed live performances, site-specific sound-art installations, an experimental recording studio and artist atelier for composition, and collaborative artistic creation.
PARNASSUS SECOND SOLO ALBUM
An experimental recording project outside the traditional music recording studio environment, the artist, in collaboration with engineer Kohji Fujita, recorded songs composed during the course of the artist in residency within the Military HQ of the French Embassy to culminate in Skepper's second solo album "Parnassus".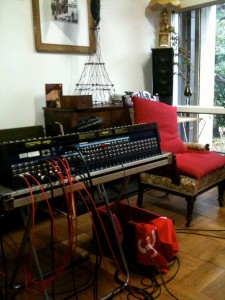 Live Performance Art Project – Music vs Couture
Skepper vs Suzuki – emerging Japanese couturier Michiko Suzuki (ex Yohji Yamamoto) responded to improvised soundscapes  to re-construct a garment from scrap military clothing over a series of 2 hour live performance collaborations.