SIGGRAPH ASIA 2015
SIGGRAPH ASIA 2015
World Premiere
HOKUSAI x CANON x NHK x SKEPPER
16 Channel Surround Sound Installation
The Ultra Reality Experience: HOKUSAI's Ukiyo-e Painting in Real-time 3DCG with 8K Super Hi-Vision HDR Displays
8K スーパーハイビジョン リアルタイム3DCGによる超臨場感空間「北斎ジャポニズムの世界観」
The 8th ACM SIGGRAPH Conference and Exhibition on Computer Graphics and Interactive Techniques in Asia
was held in Kobe, Japan at the Kobe Convention Center from 2-5 November 2015.
This ground breaking World Premiere featured an Animation of celebrated Japanese ukiyo-e painter Katsushika Hokusai's artworks digitally captured on the Canon 8K 120 million megapixel camera. The song "For our Freedom" was selected as the soundtrack and presented in a 16 channel format surround sound installation.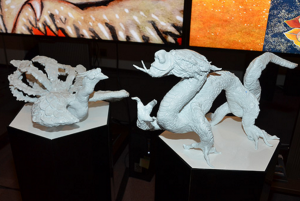 This collaborative artwork was presented by Special Invitation of Siggraph Asia 2015.
Official Site Link http://sa2015.siggraph.org/en/attendees/special-sessions/invited-special-presentations.html
Supported by NHK Art Japan, SHARP Corporation, Canon and Casey Miyamoto.